First of all, let me say...
Thanks guys! It really means a lot~
In return, I bring you photos from my side of the universe.
Today, I colored my hair because...I'm awfully sad. :(
Things haven't been very good to us lately.
Terrible, in fact.
And I'm trying to shrug off the overwhelming sadness that have taken over me, it isn't a very easy thing to do.
Everytime I get too stressed, I do something to my hair. I just hope this time it'll help, even at least a bit.
Speaking of sadness, I'd like to share with you something that a friend sent me over SMS when I was all down and trying to be okay because I need to or else I can't do my work properly.
I've added the last one since it's what I've been doing these days. I've been praying so hard and talking to him, asking him to give me the strength to endure everything that'll come. I hope everything will turn out to be okay. :(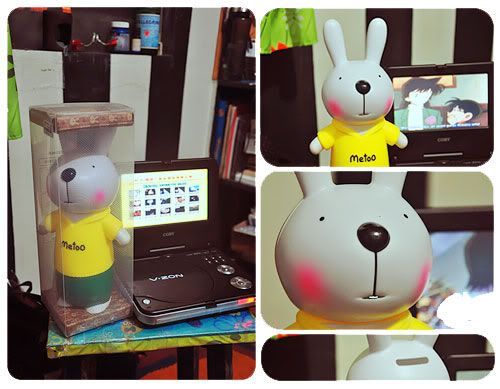 Today I bought this little guy, he's a coin bank and he's got something to do with "
treat yourself to something nice
", since comfort food didn't work.
I guess that is all for now, I do hope everyone is doing good and okay. I apologize if this post contains a lot of sadness in it, I still can't seem to shoo it all away even though I'm trying so hard.
It is one of those days.