I was very eager to get home earlier today because I know that something will be waiting for me at home. :)
TADAAAAA!!
My auntie finally claimed the package for me and it's from the swap I joined in
Swapbot
, the wishing
paper stars
one. This is why I love receiving things in the mail because they are so full of surprises. :)
The only downside is that our mail system here in the Philippines is
toooooo sloooooooow
and heck
expensive
too. That's why it's not really encouraging to send stuffs over the mail. Sadface.
My swap partner sent me a tin containing
a bunch
, no, a
LOT
of paper stars in yellow, black and sort of pinkish red. I really appreciated her effort of sending me stars in black and yellow (my favorite colors) and the sole star with a smiley face made me smile. :) She also slipped in some Airheads candy! C'mon, who wouldn't like Airheads? I am stopping myself to start with the silver-packaged one that says "
White Mystery
" because I'm saving it for last - yet I am partial on the thought that it would taste like toothpaste. LOL. Very random and unrelevant. :)) And the OMG card really made me "
OMG, asjfhajdkl what a very pretty card.
" It's now a design inspiration.
I also got a postcard from Lisbon, Portugal via
Postcrossing
. I am still thinking of getting myself a HUGE (and when I mean huge, I really mean it) corkboard to put in my wall and cover it with a vintage-y map of the world and then I'd stick pins on places that I've visited, pin photos on it and make it a sort-of inventory of the postcards I've received over the years according to place. Lovely idea, isn't it?
Talking about postcards, I know that I am too behind on my outbox which is a shame. So today I decided to start prepping for the postcards that I'll be sending the soonest time. The postcards I send, most of the time I'd prefer them handmade or printed photos slapped on cardboard because we don't have too many options on our postcard section in the bookstore, yes? And those pretty artists' postcards they sell at Fully Booked/ Powerbooks are way to expensive for my wallet. D:
And since I still have with me a few doodles I made (while I have free time in the office, free time does not mean procrastinating. LOL), I decided to photocopy a bunch and turn them into postcards. :)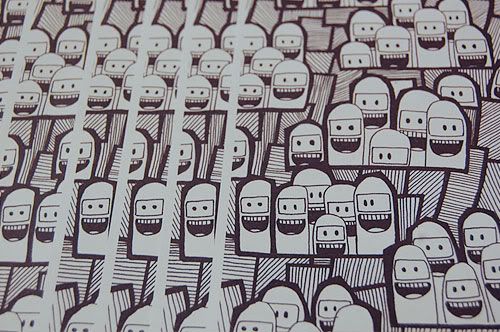 They look fun when in multiples, makes me want to do more copies! :D Perhaps you'd like one too? ;D
P.S.
I got tagged by
Krissy
and I
should
will get to that later because I will still ponder over my answers for it.